In considering myself an author it would be remiss of me not to celebrate the 200th anniversary of her demise.
Jane Austen (1775 - 1817)
A slightly different way of looking at her literary impact on the world.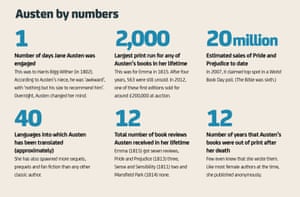 I appreciate that this isn't the clearest image but the title of each section will give the general gist of the piece.
Then there is the new £10 plastic note.
The full design of the new plastic £10 note will be revealed by Bank of England governor Mark Carney at Winchester Cathedral on Tuesday.
The note, which follows the polymer £5 note into circulation, is likely to be available for use in September.
It will feature a portrait of Jane Austen and is being launched on the 200th anniversary of her death.
A limited supply of a new £2 coin honouring the author has also been put into circulation by the Royal Mint.
I very much doubt that you will ever see an item of currency of any country with my image for you to enjoy but it is great that some literary giant will be represented.
Finally, there will be a statue unveiled in her birthplace of Steventon in the south of England. This will by force need to be an imaginative work as there is only one image of the author, which is a water colour painted by her sister Cassandra and hanging in London's National Portrait Gallery.
Judging from the quotes the author was quite a feisty lady.
The person, be it gentleman or lady, who has not pleasure in a good novel, must be intolerably stupid.
I do not want people to be very agreeable, as it saves me the trouble of liking them a great deal.